Many of you may be wondering why in the title of this article pop-culture dating is so bad tat it has to be compared to a polluted pond or a picture of a dead fish.That will be explained as this article goes on, but first, ponder this:
Does a fish that has lived in polluted water its entire life know that it is in polluted water? In other words, does the fish need to swim in clean water to know about pollution??
As you think of this analogy, reflect on your own dating experiences for a minute. How was it overall? What kinds of activities did you do? Was your experience mostly positive or negative? These questions might lead you to think back on some hilariously awkward, stressful, or anxiety-provoking situations that you felt during those times.
I have plenty of dating experiences myself that fit that description, especially as a current college student. In my experience, people–or maybe it's just college students–do not know how to date.
During my first three semesters of college, I was not asked on one date, just "hangouts". When I did end up going on dates–because I caved in and downloaded a dating app–it felt as if I was only there to provide physical touch for guys that craved it. No bueno. It was so stressful and I started to despise going on dates and "hangouts" disguised as dates. It was clear that the dating culture I was suddenly immersed in was no longer about doing fun things and getting to know a wide variety of guys, it had now become people using one another fulfilling their wants masquerading as "needs". Regardless of how each of us views our past dating experiences, think of how the current dating culture might impact young people today–especially your own children. How might it affect their relationships 20 years from now? How is this polluted dating culture affecting your relationships now?
According to the Pew Research Center, most people in the dating scene are not satisfied and think finding a significant other has gotten even harder today than it was in the past. Of those that are currently dating, 67% said that overall, their dating is not going well. Only 33% of daters in the study say that their dating is going very or fairly well overall (see chart).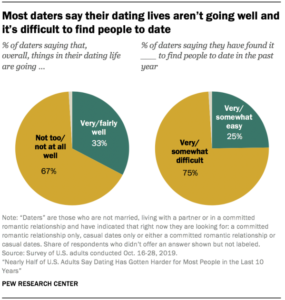 So how did we get here? How did dating become something so negative? And why do we even still do it?
Unless you are Patrick Star and live under a rock at the bottom of the sea, you have probably noticed–especially on college campuses today–the popular terms of "hanging out" and "hooking up." Hanging out is essentially watered-down dating without intention or purpose. Monto and Carey (2014) specify that hooking up is "a pattern involving transitory sexual interactions between partners who have no expectation of a continued romantic relationship or sexuality outside of a committed relationship." In other words, hooking up is:
Sex without strings and relationships without rings.
For most people, especially those engaging in these activities, this phenomenon might not seem like such a bad thing. However, many studies have found that casual sex and the hang-out/hook-up culture can increase psychological distress, anxiety, depression, in addition to "[lowered] self-esteem and reduced life satisfaction" (Napper et al., 2016). I don't know about you, but these outcomes do not sound very appealing. I personally have experienced these negative outcomes in my own life and can see them in the lives of my peers.
The Polluted Waters
Now back to the fish in polluted water. As you've probably already guessed, we young people are the fish and this toxic dating culture is the polluted water. Figuratively speaking, some of us have only ever known polluted water. And just like the fish, if you're in this toxicity long enough, it can be harmful to your overall health. But there is hope! We can clean the "dating water" we are in and break the cycle creating a new environment for ourselves and our relationships. But how?
Using Dr. Jon Van Epp's Relationship Attachment Model (RAM), we can gain some insight into good and healthy dating attitudes and habits. The RAM model (see image) is built with five sliders that are labeled: know, trust, rely, commit, and touch. Each of these are important components of any and all relationships. Dr. Van Epp explains in his book How to Avoid Falling in Love with a Jerk that each slider should be slightly lower than the previous one…in ascending order. This simply means, it is important to know someone more than you trust them; and to trust them more than you rely on them; and to rely on them more than you are committed to them; and to commit to them more than your amount of physical touch.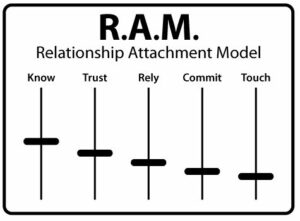 The dating culture today–which is generating more emotional and mental health problems–is more of a "Relationship Detachment Model." Physical touch is often the highest slider, rather than one's knowledge of and trust in the person with whom they are having sex.
Essentially, research has discovered that healthy dating (i.e., clean water) follows this model and helps to build stable and satisfying relationships that can then enhance future families and society as a whole.
If more of us follow this model, especially in high school or college, the dating waters will be clean and individuals and couples will thrive, both in these dating stages and later on in marriage or with our families. The principles of the RAM have changed me and the way I approach dating for the better! I strongly encourage you to read How to Avoid Falling in Love with a Jerk, incorporate its ideas, and teach others to do the same.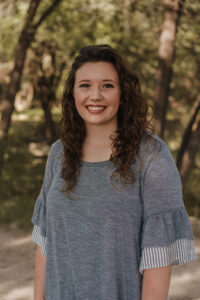 Sydney Stratton is from Lubbock, Texas, and is a junior in Marriage and Family Studies at Brigham Young University – Idaho. She is currently the Vice President of the Child and Family Advocacy Society on campus.