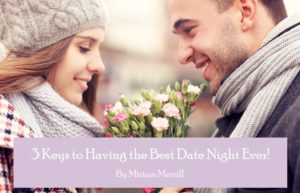 What was once the best day of the week while you were dating can easily become mundane, boring, or even forgotten about once you've been married. Date nights have an incredibly important role within marriages. Unfortunately, the plethora of responsibility we each possess relating to roles in school, work, church, and community often make it difficult to prioritize date night like we should.
A few fancy dates per year on special occasions aren't enough, either. Research has shown that couples who have weekly date nights are 3.5 times more likely to report being "very happy" in their marriages, 3.5 times more likely to report sexual satisfaction within their marriage, and almost 3.5 more likely to report above-average communication satisfaction. Plus, there is a direct correlation between the amount of times that couples spend together and the probability
of divorce.
Despite the overwhelming evidence that date nights are crucial to marital success, the majority of couples report that they "hardly ever" have it. For the sake of our marriages, it's time to break the status quo and recommit to regular date nights, and we have a few suggestions on how to make them the best they can be.
1. Try Something New Together
If your date nights are feeling so stale that they aren't worth it anymore, why not try reinventing them? While it's fun to have a location or restaurant that's "yours" as a couple, it's also important to switch things up every once and a while. Social psychology professor Arthur Aron suggested, "Rather than visiting the same familiar haunts and dining with the same old friends, couples need to tailor their date nights around new and different activities that they both enjoy."
Research suggests that when you do something new with your spouse, brain circuits are ignited. These brain circuits are the same ones that were ignited when you first fell in love, so trying a new activity together can truly take you back to the most thrilling stage of your relationship, helping you remember what made you first fall in love with your spouse. It doesn't have to be anything major, either. You can try a new restaurant, swap the time of your date and plan a sunrise or breakfast, visit a landmark that you've never been to, or take advantage of community arts classes, like pottery or social dance. With a little planning, it'll be easy to plan a novel, economical, and totally memorable date night this week.
2. Put Your Phone Away
Having your phone out during a first date is considered rude and taboo, yet phones often work their way into marital date nights. If you want to plan the best date night ever, phones can't be anywhere on the itinerary.
Dr. Emma Seppälä, author The Happiness Track, stated, "Intimacy comes from being able to share authentically with another person. If you are looking at your phone rather than in your partner's eyes, there can be no intimacy."
A study completed by the University of Chicago proved that simply having a cell phone in the room causes decreased cognitive capacity and focus. Your spouse deserves the focus and attention that you gave them on your first date. Turn your phones on silent, put them away, and if possible, just leave them at home. If you want date night to be special, you need to treat it differently than the other nights of the week, and that means leaving social media, the news, and entertainment apps out of it.
3. Take Turns Asking Each Other Out
While considering how date night was different now that my husband and I are married, I realized that perhaps the most exciting aspect of our date nights had been entirely lost. I don't think I'll ever forget how genuinely ecstatic I felt when I was asked out on the first date with my now-husband, and the second, and the third, and the fourth, and so on. Every time he called to ask me out on another date, I truly felt over-the- moon excited. So why was that practice now lost?
We decided to experiment with this. We took turns planning weekly date nights and made the rule that the respective spouse had to formally ask the other, just like we had when we were first dating. I'll admit that initially the formality seemed a little silly, but then something happened. I began finding myself looking forward to getting asked out by my husband and wondering when the invitation was coming, and when it did, some of those exact same over-the- moon feelings came back. I found myself taking extra time to get ready for the date night and documenting the date nights with photos and videos, just like we had early in our relationship. Date nights quickly became more like a special event, and less like a necessary weekly formality.
If you wish date nights felt as exciting as they used to while you were dating, why not make them more like when you were dating? Whether it's formal invitations or something else entirely, examine some of the aspects of your former date nights that have since been forgotten and commit to incorporating them once again in your relationship.
If you aren't currently having regular date nights and the idea of working a weekly date night into your schedule seems overwhelming and unrealistic, strive initially for some sort of progress and work your way up. Start where you are now, and as you prioritize increasing the frequency and quality of our date nights, you'll also be prioritizing your family, your marriage, and your spouse.