Ghosts From My Mother's Past
My mother, Debbie Madsen*, was ten years old when she first began to recognize the heartbreaking changes that would come into her life from having an alcoholic father. In a small town in southern Idaho, Bobby and Debbie were the best of friends. They spent their childhood passing through the doors of one another's homes. That is, until the day Bobby passed out of Debbie's home one final time, with the vow never to return rolling off his young lips.
My grandfather was one of the kindest, sweetest, and most thoughtful men you'd ever meet, but only when he was sober. Drinking turned him into the worst of the worst; in went the booze and out went Dr. Jekyll. And on this fateful night, Bobby was around when the evil Hyde had full reign in the Madsen home.
When dinner was served, Debbie left Bobby to wait for her in their playroom, doodling on the chalkboard. On the other side of the wall was the Madsen's dining room. Unfortunately, what Bobby and Debbie didn't know was that the sound made by the chalk every time Bobby drew would be heard through the thin wall. Every innocent stroke of the chalk caused darkness to gather in my inebriated grandfather. And eventually, my loving grandfather was gone once more. In his place was an angry and hateful Hyde.
Through the thin walls, Hyde began to drunkenly and loudly question the "sounds of a mouse" in the next room. Hyde's loud, abrasive questioning led him to express possible ways to terrorize and then terminate the "mouse" into silence. Regardless of the implied threats against her dear friend, Debbie still kept quiet; she knew what was best. Alcoholic homes have unspoken rules and they all obeyed them.
As soon as she was excused, Debbie dashed to the playroom and found Bobby with an ashen countenance, deathly quiet, and stricken immobile from fear. Wordlessly, Debbie ushered Bobby out of her house. That night, as Bobby silently passed out of the Madsen home one last time, it was a sense of relief that flooded through Debbie; Bobby was safe.
The next day on the way to school, on the sidewalk in between their homes, Bobby told Debbie he would never step foot in her house again. And he didn't. As the years continued to go by, Debbie passed less and less through the doors of Bobby's home. Her life and the secrets it held required more managing, along with the addition of more unspoken family rules that demanded obedience. Eventually, Bobby slowly became a distant, sorrowful memory for my mother.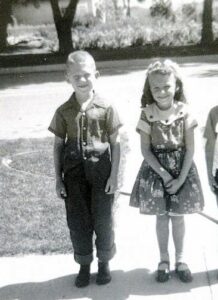 Bobby and Debbie
Lessons for Today From My Mother's Past
There are many things my mother wasn't aware of then that she understands now. While the demands of society during those decades required secrecy, she had never been the only child learning how to deal with an alcoholic parent. The Substance Abuse and Mental Health Services Administration (SAMHSA) has reported that 7.5 million (10.5 percent) of children aged 17 or younger live in a household with at least one parent who has an alcohol use disorder. As my mother has aged, her feelings of shame and embarrassment have abated as she's been able to recognize that there is strength in numbers.
Additionally, there are two prongs to the perpetuation of substance use disorders in a family system. The first prong is intimate exposure to substance abuse. The Journal of Child & Adolescent Substance Abuse has reported that children who are raised in a home with a substance-dependent parent have a much higher likelihood of becoming substance abusers themselves. As a result, the family history of the substance abuse cycle takes root and the second prong is born. In research published by Addictive Behaviors, findings show that a family history of substance use disorders creates an unhealthy cycle in family systems that make it hard for children of substance abusers to break. So, the cycle goes on, from one generation to the next.
My mother was too young at the time to notice the other extended members of her family who were alcoholics, too. Her paternal grandmother, great-uncles, and great-aunt all struggled with it to varying degrees. Because of our strong family history of alcoholism, the proclivity to become an alcoholic runs deep within our veins.
Creating Your Own Chance
Now, these two strikes against my grandfather make it seem as though he didn't have a fighting chance. An alcoholic he was doomed to be…right? The reality, though, is that we all have a chance. We all have a choice. We all have a hand in the creation of what roles we play in our family system. My mother has never had a drink and neither have I. She refused to continue the cycle of substance abuse in her own family of creation, and I am determined to do the same in mine. My mother is strong, resolute, and brave, and I am grateful.
The seemingly insignificant yet sincere invitation I extended to my mother asking her to share the delicate and heartbreaking experiences from her youth opened a dialogue that had previously been closed. With open dialogue, families are empowered. Mental health and healing can be prioritized. Trusted support, professionally and socially, outside of a dysfunctional family system can be found for the substance abuser and their loved ones. What hard questions are you willing to ask so that healing dialogue can happen?
Knowledge matters. Knowledge gives directed courses of action that enable the protection and strengthening of future generations. What ghost stories from your own family's past need to be shared so that you can help others? I didn't know it all, but I knew enough to ask. What cycles are you strong enough to not only recognize but also break? Because you do have a chance, even if the only way to get it is by creating it yourself.
(*Name has been changed)
References
Acheson, A., Vincent, A. S., Cohoon, A. J., & Lovallo, W. R. (2018). Defining the phenotype of young adults with family histories of alcohol and other substance use disorders: Studies from the family health patterns project. Addictive Behaviors, 77, 247–254. https://doi.org/10.1016/j.addbeh.2017.10.014
American Addiction Centers. (2021). Children of alcoholics: The impacts of alcoholics on kids. https://americanaddictioncenters.org/alcoholism-treatment/children
SAMHSA. (2017). Substance Abuse and Mental Health Services Administration. Children living with parents who have a substance abuse disorder. https://www.samhsa.gov/data/report/children-living-parents-who-have-substance-use-disorder
Tarter, R. E., Schultz, K., Kirisci, L., & Dunn, M. (2001). Does living with a substance abusing father increase substance abuse risk in male offspring? Impact on individual, family, school, and peer vulnerability factors. Journal of Child and Adolescent Substance Abuse, 10(3), 59–70. https://doi.org/10.1300/J029v10n03_04
About the Author
Rebecca Whittaker has an Associate of Applied Science in Marriage and Family Studies, a Marriage, Family, and Human Relations Certificate, and an Advanced Marriage and Family Functioning Certificate. She is currently working on completing her Bachelor of Science in Marriage and Family Studies through Brigham Young University-Idaho online. The majority of her time as a single mom is spent either homeschooling her three children, furthering her own education, fantasizing about the time she used to have to read at leisure, or relishing an ice-cold soda while soaking up the sun.